Pitmaster-Perfect Kebabs Nothing brings people together like a barbecue, and these Pineapple Pork Kebabs can help make you the hero of your grill this summer. Using high-quality, versatile Smithfield Prime Boneless Fresh Pork Loin, sweet onion, red bell pepper, and pineapple chunks, they're perfect for nearly any gathering with family and friends. Find more summer grilling tips and recipes at SmithfieldGetGrilling.com.
AP Collection It's a Good Day White 12oz Enamel Mug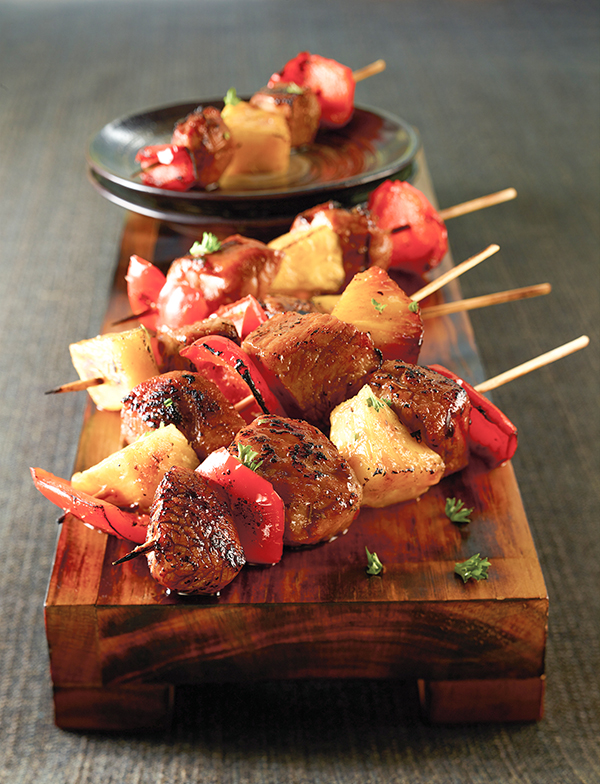 Pineapple Pork Kebabs
Recipe courtesy of pitmaster Sterling Ball
Prep time: 10 minutes
Cook time: 1 hour
Servings: 3-4
1/2       Smithfield Prime Boneless Fresh Pork Loin
1          sweet onion, cut into 1-1 1/2-inch square pieces
1          red bell pepper, cut into 1-1 1/2-inch square pieces
2          cups pineapple chunks
3-4       tablespoons barbecue rub
2 1/2    cups teriyaki marinade
3-4       flexible skewers
Heat grill or smoker to 250° F. Cut pork loin into 2-inch cubes.
Season pork loin, sweet onion, red bell pepper and pineapple chunks with rub.
Thread pork loin, onion, pepper and pineapple on skewer; repeat until length of skewer is almost full. Repeat with additional skewers.
Put assembled kebabs in large re-sealable bag and add teriyaki marinade. Carefully remove air from marinade bag and refrigerate 20 minutes.
Remove kebabs from marinade bag and place on grill over indirect heat; cook 12-14 minutes, remove and set aside.
Increase grill temperature to 400° F. Sear kebabs at high heat, until caramelized. Using meat thermometer, check pork loin cubes for doneness; remove from heat once pork reaches internal temperature of 145° F.
SOURCE:
Smithfield
Mini Corn Dog Bites
We are sorry that this post was not useful for you!
Let us improve this post!
Tell us how we can improve this post?
About Post Author