Ruby Beet Chicken Salad Skewers
Ruby Beet Chicken Salad Skewers. Picnics, patio dining, and alfresco foods all come to mind when warmer weather allows families and friends to enjoy the flavors of homemade meals in the great outdoors. As you seek out recipes for outdoor entertaining and more, try keeping the options light and simple with dishes that can be created at a moment's notice. (Family Features)
Find more outdoor dining ideas and recipes at auntnellies.com and READsalads.com.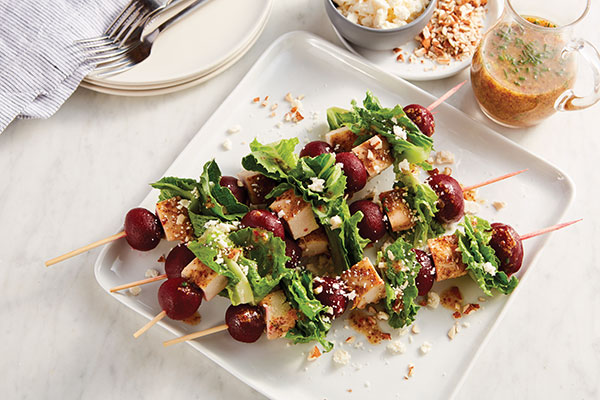 Ruby Beet Chicken Salad Skewers
Prep time: 25 minutes
Cook time: 20 minutes
Servings: 8
1 jar (16 ounces) Aunt Nellie's Baby Whole Pickled Beets
2 large boneless, skinless chicken breast halves (about 1 pound)
1/2 teaspoon salt, plus additional, to taste, divided
1/2 teaspoon pepper, plus additional, to taste, divided
4 1/2 tablespoons stone ground mustard, divided
1 1/2 tablespoons, plus 1/3 cup, orange marmalade, divided
2 tablespoons minced fresh chives
1 large lemon, zest and juice (1/3 cup juice)
1/4 cup olive oil
1 bag (9 ounces) leafy romaine lettuce pieces
1/3 cup chopped almonds, toasted
1/3 cup crumbled blue, feta or goat cheese
Heat oven to 375 F. Drain beets; set aside.
Season both sides of chicken with salt and pepper, to taste. In a small bowl, combine 1 1/2 tablespoons mustard and 1 1/2 tablespoons marmalade. Brush mixture over chicken until completely coated. Bake chicken on a rimmed baking sheet lined with aluminum foil for about 20-25 minutes, or until juices run clear; set aside.
To make the vinaigrette: In a medium bowl, combine remaining mustard, remaining marmalade, chives, lemon zest and juice, 1/2 teaspoon salt, and 1/2 teaspoon pepper. Slowly pour in oil while whisking vigorously until completely combined.
Slice cooled chicken into 1-inch pieces. Onto each skewer, thread one beet, one piece of chicken, and 4-5 pieces of lettuce; repeat two times for each skewer, adding one beet at ends. Repeat to make eight skewers. Place skewers on a large serving platter.
Stir vinaigrette; drizzle lightly over skewers. Sprinkle with almonds and cheese. Serve with remaining vinaigrette.
SOURCE:
Seneca Foods
http://www.readsalads.com/
Middle Eastern-Inspired Bean Salad
We are sorry that this post was not useful for you!
Let us improve this post!
Tell us how we can improve this post?
About Post Author