Watermelon Sandwich Wraps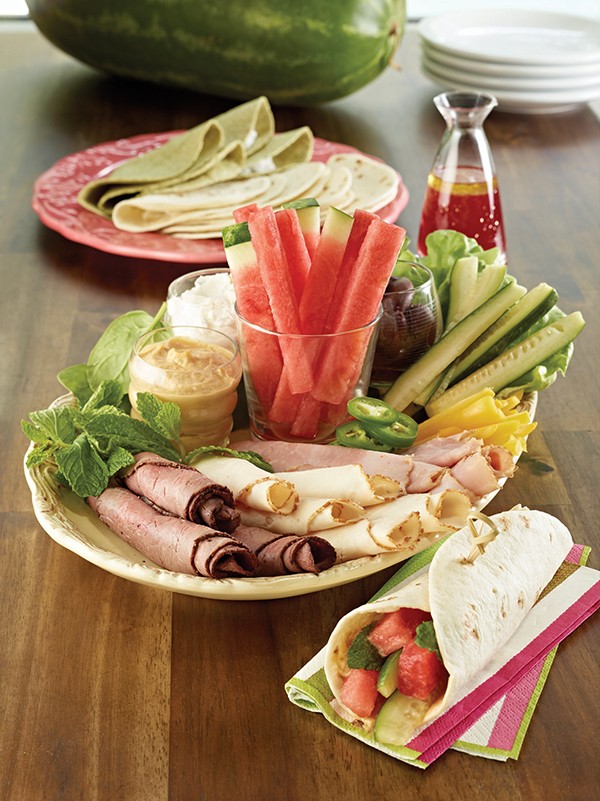 Watermelon Sandwich Wraps a  Simple and Subtle Flavor. Whether you want something to eat at home or on the go, watermelon can be a key ingredient in bringing a hint of sweetness and a subtle, delicious flavor. Taste the crisp and light flavor of these wraps and see just how quick it can be to use an ingredient like watermelon in a simple snack. Find more on-the-go snack ideas at watermelon.org/WatermelonOnTheGo.
AP THE TREE "BRIGHTER DAY" White 11oz Ceramic Mug with Color Inside
Watermelon Sandwich Wraps
1          wheat, flour, corn, spinach or sun-dried tomato tortilla
2-4       teaspoons chive cream cheese, hummus, guacamole or Greek yogurt
5-8       slices turkey, ham, chicken breast, roast beef or pepperoni
1          watermelon spear, about 1/2-inch thick, 1-inch wide
2-4       teaspoons barbecue sauce, ranch, pesto, Thai peanut sauce, teriyaki, salsa or sweet chili and ginger
2-4       slices feta, pepper jack, swiss or mozzarella cheese
Toppings:
watercress
olives
scallions
cilantro
romaine lettuce
Bibb lettuce
jalapenos
fresh mint
basil
shredded carrots
Brussels sprouts
cucumber slices
bacon
pine nuts
SOURCE:
National Watermelon Promotion Board
Cozy calorie-conscious dishes and cooking tips for celebrations
Veg Egg Sandwich the way mom made it.
We are sorry that this post was not useful for you!
Let us improve this post!
Tell us how we can improve this post?
About Post Author