How to Make Crème Brûlée
Dazzle your guests with a decadent dessert like this Crème Brûlée.  With a rich and creamy filling topped with a sugary crust, these individual-sized sweets can provide a perfect ending to nearly any get-together.
Find more dessert recipes at www.culinary.net.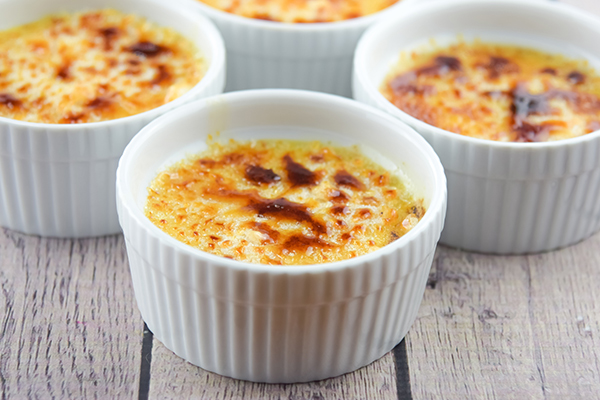 Crème Brûlée
4          cups heavy cream
2          teaspoons vanilla extract
2          teaspoons ground cardamom
1/2      cup granulated sugar
6          egg yolks
vanilla sugar
Heat oven to 300° F.
In a medium saucepan, bring the cream, vanilla, and cardamom to simmer, whisking occasionally. Do not boil. Remove pan from heat and let rest 10 minutes.
In a large bowl, whisk together sugar and egg yolks. Slowly whisk warm cream into egg mixture until smooth.
Set ramekins into a baking dish with sides.  Pour mixture into ramekins.  Pour boiling water into the baking dish about halfway up sides of ramekins. Bake 40-45 minutes, or until custard is firm.  Chill 1 hour.
Before serving, evenly sprinkle vanilla sugar on top.  Use a kitchen torch to caramelize vanilla sugar.
Recipe adapted from Milk Means More.
SOURCE:
Culinary.net
Say Goodbye to Basic Brunch
We are sorry that this post was not useful for you!
Let us improve this post!
Tell us how we can improve this post?
About Post Author