Savor a Bite of Steak
A hearty flavor profile and perfectly prepared, high-quality meat can make a summer meal truly spectacular, especially when paired with fresh veggies in a protein-packed sandwich.
Inspired by Vietnamese tradition, this Steak Banh Mi recipe – which features tender grass-fed flat iron steak, pickled carrots, bright lettuce, and crunchy cucumbers – is sure to be a crowd-pleaser at your next summer gathering. Take your taste buds to new heights with Silver Fern Farms natural cuts of 100% grass-fed beef from New Zealand, which is minimally processed with no added growth hormones or antibiotics. There, the animals roam and graze freely over lush green hills and pastures, resulting in lean, flavorful, nutritious meat that tastes just as nature intended.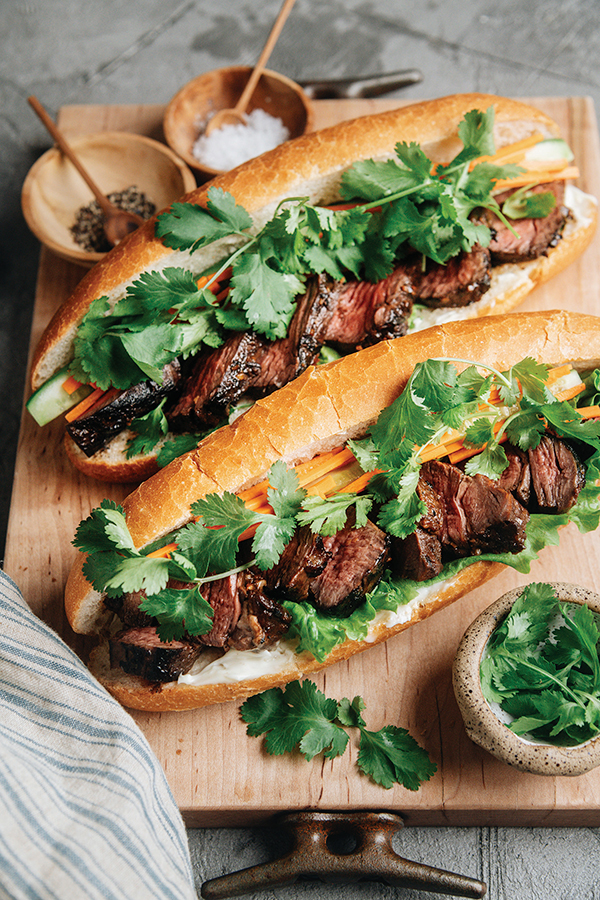 Visit silverfernfarms.com for more inspiration.
Steak Banh Mi
Prep time: 2 hours
Cook time: 15 minutes
Servings: 2
10        ounces Silver Fern Farms New Zealand grass-fed beef flat iron steak
2          teaspoons hoisin sauce
2          teaspoons soy sauce
2          teaspoons honey
1          teaspoon fish sauce
1          clove garlic, minced
1          teaspoon, plus 1/2 cup, rice vinegar, divided
1/8       teaspoon five-spice powder
2          tablespoons sugar
1          pinch salt
1          small carrot, cut into matchsticks
1          tablespoon vegetable oil
1/4       cup water
2          Vietnamese baguettes or dinner rolls
1/4       cup mayonnaise
4          Batavia lettuce leaves
1/4       cup cilantro, chopped
1          Persian cucumber, sliced
Remove steak from packaging and set aside 10 minutes. Once steak reaches room temperature, place steak in deep plate or storage container. In small bowl, combine hoisin sauce, soy sauce, honey, fish sauce, garlic, 1 teaspoon rice vinegar and five-spice powder; pour over steak. Cover and marinate in fridge at least 2 hours, or overnight.
In small pot over medium heat, heat remaining rice vinegar, sugar and salt. Cook and stir until sugar and salt dissolve. Remove from heat and let cool.
Place carrots in deep plate or storage container. Pour cooled pickling liquid over carrots. Set aside to marinate.
Remove steak from marinade and pat dry. Reserve marinade.
Heat oven to 325 F.
Heat heavy-bottomed pan over high heat and add oil. Once oil begins to smoke, add steak. Sear both sides, about 1 minute per side. Lower heat to medium.
Add reserved marinade and water to pan. Cook, covered, 3 minutes, removing lid to flip meat occasionally. Remove lid and let sauce reduce 1 minute, or until slightly thickened.
Transfer steak and sauce to large plate and let rest 10 minutes before slicing.
Toast baguettes in oven 5 minutes. Let cool 5-10 minutes.
Slice baguettes along middle without cutting through.
Slice steak into thin pieces.
Spread mayonnaise on baguettes and add 1-2 lettuce leaves to each. Layer steak on lettuce leaves followed by cilantro, cucumbers and pickled carrots. Slice baguette into two sandwiches.
SOURCE:
Beef + Lamb New Zealand
Fresh Express
National Watermelon Promotion Board
We are sorry that this post was not useful for you!
Let us improve this post!
Tell us how we can improve this post?
About Post Author