Smoked Chicken and Grape Bruschetta
Smoked Chicken and Grape Bruschetta
Send guests home with Easy Grape Compote, or give it as a fun host or hostess gift for friends and family, so they can enjoy a little taste of the holidays even after all the excitement winds down. (Family Features)
Find more tasty appetizers, meals, desserts and more at grapesfromcalifornia.com.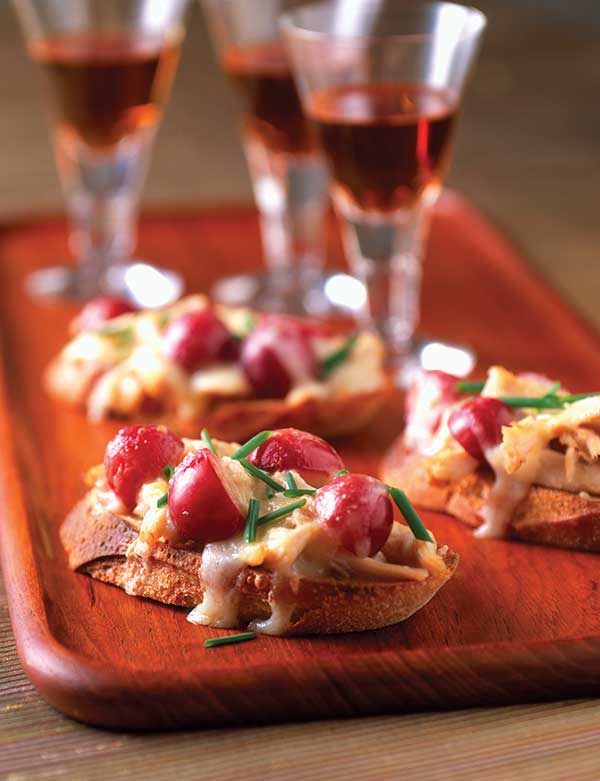 Smoked Chicken and Grape Bruschetta
Yield: 24 pieces
3 cloves garlic, minced
1/2 cup extra-virgin olive oil
1/4 teaspoon salt
1 French bread baguette
8 ounces smoked chicken breast (1 3/4 cups), shredded or cut into bite-size strips
1 1/2 cups red, green or black seedless California grapes, halved
12 ounces fontina, port salute or Monterey Jack cheese, grated
1 tablespoon chives, snipped
1/2 teaspoon freshly ground black pepper
Preheat broiler to 550 F.
In small bowl, combine garlic, olive oil and salt. Set aside. Slice baguette on bias into 1/2-inch thick slices. Brush baguette slices with garlic-oil and place on cookie sheet. Toast in broiler about 1-2 minutes on each side until golden brown. Remove from broiler.
On each bread slice, place about 1 tablespoon chicken breast and three grape halves then top with 2 tablespoons grated cheese.
Place cookie sheet about 8 inches away from broiler and broil 2-3 minutes until cheese is melted and bubbly. Place on serving platter and sprinkle with snipped chives and pepper.
Nutritional analysis per serving: 125 calories; 7 g protein; 9 g fat (68% calories from fat); 3 g carbohydrates; 24 mg cholesterol; less than 1 g fiber; 154 mg sodium.

SOURCE:
California Table Grape Commission
We are sorry that this post was not useful for you!
Let us improve this post!
Tell us how we can improve this post?
About Post Author