Chicken Cordon Bleu Kebabs
Chicken Cordon Bleu Kebabs for an amazing dinnertime dish loaded with nutrients help keep loved ones connected while refueling after busy days spent at work and school. (Family Features)
Visit MilkMeansMore.org to find more delicious dishes that fit a lactose intolerant meal plan.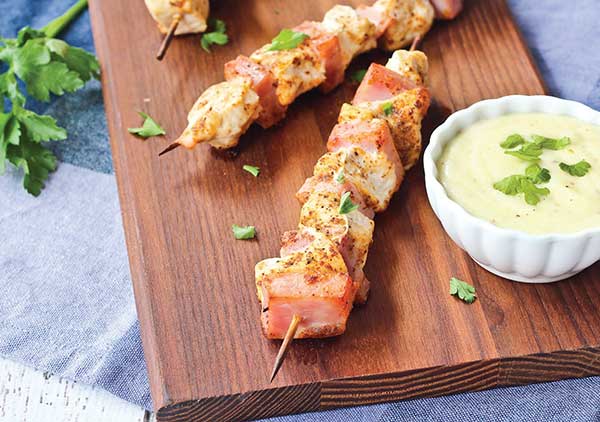 Chicken Cordon Bleu Kebabs
Recipe courtesy of Rachel Gurk of "Rachel Cooks" on behalf of Milk Means More
Prep time: 15 minutes
Cook time: 10 minutes
Servings: 3
Skewers:
Nonstick cooking spray
2 chicken breasts (6 ounces each), cubed
1 ham steak (6 ounces), cubed
6 bamboo skewers (8 inches)
1 tablespoon Dijon mustard
1 teaspoon pure maple syrup
1/4 teaspoon ground black pepper
1/4 teaspoon paprika
1 teaspoon extra-virgin olive oil
Sauce:
2 tablespoons butter
2 tablespoons flour
1 cup lactose-free 2% milk
1 teaspoon Dijon mustard
1 cup shredded Swiss cheese
salt, to taste (optional)
pepper, to taste (optional)
To make skewers: Preheat broiler to 500 F. Line broiler pan with foil and spray with nonstick cooking spray.
Thread cubed chicken pieces and cubed ham pieces onto skewers.
In small bowl, combine Dijon mustard, maple syrup, black pepper, paprika and oil.
Brush mustard mixture on skewers.
Broil about 5 minutes, flip and cook 5 minutes, or until chicken is cooked through.
To make sauce: In small saucepan over medium heat, melt butter. Whisk in flour and cook 1 minute, whisking constantly. Gradually add milk, whisking constantly. Add Dijon mustard. Continue cooking 5 minutes, or until thick. Reduce heat to low and stir in cheese, whisking until melted.
Add salt and pepper, to taste, if desired.
Serve chicken and ham kebabs with sauce.
We are sorry that this post was not useful for you!
Let us improve this post!
Tell us how we can improve this post?
About Post Author