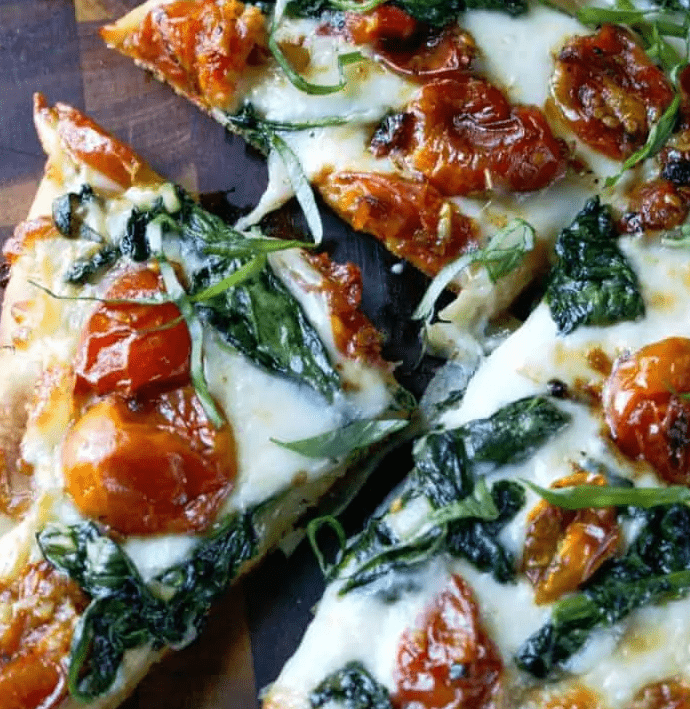 Cook Time
1 hour
10 minutes
Total Time
1 hour
20 minutes
Ingredients
For the Garlic Roasted Tomatoes
2 pints cherry tomatoes halved
5 garlic cloves minced
2 teaspoons dried Italian seasoning
 1 teaspoon kosher salt
1/2 teaspoon black pepper
2 tablespoons olive oil, plus more for storage
2 cups spinach
2 tablespoon olive oil
3-4 cups mozzarella cheese shredded
4 Flatbreads, I use packaged Naan
fresh basil for garnish
Instructions
Garlic roasted tomatoes
Preheat oven to 300 degrees
In a large mixing bowl add the cherry tomatoes, garlic, Italian seasoning, olive oil, salt and pepper. Mix gently
Transfer to a baking sheet and spread into an even layer.
Bake for 1 hour or until tomatoes are soft and smell delicious
Preheat oven or grill to 425 degrees
Spray a baking sheet with non-stick cooking spray
In a skillet on medium heat add olive oil, and spinach, saute for 1-2 minutes or until wilted. Turn heat off and set aside.
Bake for 9-10 minutes or until cheese is melted and edges are browned and slightly crisp.
Add basil to garnish…Enjoy!
Ruby Beet Chicken Salad Skewers
Ezz Jazz where music makes you dance
Hits: 46