Grilled Pizza Arugula Pesto
Grilled Pizza Arugula Pesto. Crisp, fresh greens, and a perfect blend of spices and savory ingredients make each of these refreshing dishes perfect solutions for toasty days.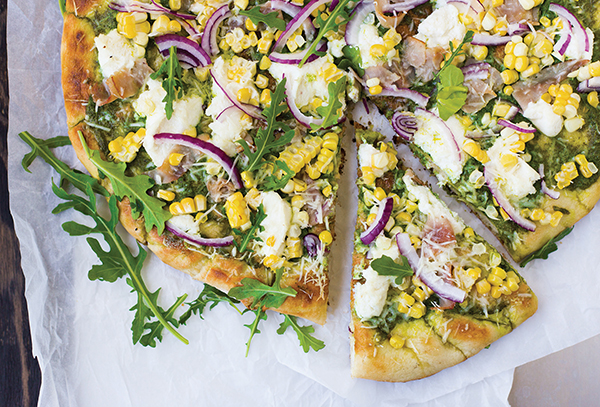 Grilled Pizza with Arugula Pesto, Corn and Ham
Recipe courtesy of Rachel Gurk of Rachel Cooks on behalf of Milk Means More
Prep time: 20 minutes
Cook time: 10 minutes
Servings: 6
Arugula Pesto:
2          cups fresh arugula, tightly packed
1          clove garlic
1          tablespoon lemon juice
pinch red pepper flakes, (optional)
1/3       cup shredded Parmesan cheese
1/2       cup extra-virgin olive oil
salt, to taste
pepper, to taste
Grilled Pizza:
2          tablespoons flour, divided
1          pound pizza crust dough (at room temperature if using refrigerated dough)
vegetable oil, for grill
1/2       cup Arugula Pesto
1/2       cup part-skim ricotta cheese
1/2     cup diced deli ham
1/2-3/4             cup fresh corn kernels (about 1 cob)
1/4     cup thinly sliced red onion
1/4     cup shredded Parmesan cheese
Heat grill to medium heat (350-400° F).
To make Arugula Pesto: In food processor, combine arugula, garlic, lemon juice, red pepper flakes and Parmesan. Pulse until combined then, with food processor on, drizzle in olive oil until pesto forms, scraping down sides as needed. Taste and season with salt and pepper, to taste.
To make Grilled Pizza: Flour pizza dough lightly and stretch or roll to about 1/2-inch thickness (14-16-inch diameter).
Sprinkle remaining flour on large rimless baking sheet, pizza peel or pizza stone. Transfer dough to baking surface.
Clean grill grate and grease with oil-soaked paper towel and tongs. Slide dough off baking surface onto grill. Cover and cook until dough is bubbling on top and golden brown on bottom, 2-3 minutes.
Carefully flip dough over using peel or tongs. Remove crust from grill to add toppings. Spread Arugula Pesto over dough. Top with ricotta, ham, corn kernels, onion and Parmesan. Return pizza to grill, cover and cook until toppings are heated through and bottom of crust is crispy, 5-7 minutes.
Remove from grill, slice and serve.
SOURCE:
United Dairy Industry of Michigan
We are sorry that this post was not useful for you!
Let us improve this post!
Tell us how we can improve this post?
About Post Author