Spicy Yet Savory Poppers. Your guests won't be able to have just one of these sweet and savory poppers. With a touch of heat from the cayenne pepper and sweetness from brown sugar, you're almost sure to watch them quickly disappear.
For more recipes, visit culinary.net.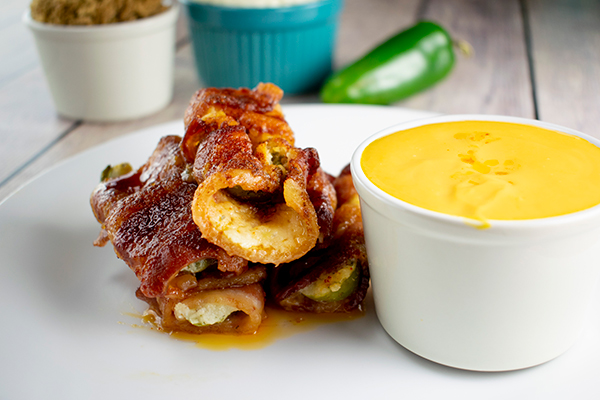 Bacon-Wrapped Jalapeno Poppers
Prep time: 30 minutes
Cook time: 30 minutes
Serves: 40
2          packages Bob Evans Thick Sliced Hardwood Smoked Bacon, slices cut in half
1          package Bob Evans White Cheddar Mashed Potatoes
1          package garlic herb cheese spread
20        jalapeno peppers, halved, seeded with membranes removed
1/4       cup brown sugar
1          teaspoon ground cayenne pepper
Heat oven to 400° F. Set bacon out to thaw to room temperature so it is pliable.
In mixing bowl, use rubber spatula to combine mashed potatoes and garlic herb cheese. Stir until incorporated. Spread 1 teaspoon mashed potato mixture in each jalapeno half; level each with butter knife or spatula.
Wrap each jalapeno with bacon; use three half slices for large jalapenos or two halves for smaller sizes. Be sure bacon is wrapped sealing in mashed potato mixture tightly.
In small mixing bowl, combine brown sugar and cayenne pepper. Generously sprinkle over bacon and pat gently to make it stick.
Line cookie sheet with piece of parchment paper so sugar does not burn to pan. Bake until bacon reaches desired crispiness, around 25-35 minutes.
Let peppers cool slightly before serving, about 5 minutes.
Recipe courtesy of Bob Evans.
SOURCE:
Culinary.net
Family Green Bean Casserole Dish
Family Green Bean Casserole Dish
We are sorry that this post was not useful for you!
Let us improve this post!
Tell us how we can improve this post?
About Post Author