Sweet Potato and Black Bean Chili
Cook Up Comforting Chili
Sweet Potato and Black Bean Chili for those cold, crisp days call for hearty foods to warm up from the inside-out. With just a few tasty additions, you can take chili – the classic comfort food – to the next level. This Sweet Potato and Black Bean Chili call for bacon, sweet potatoes, and chopped jalapeno pepper for a spicier version of the wintertime favorite. Find more comforting, family-favorite recipes at circulon.com.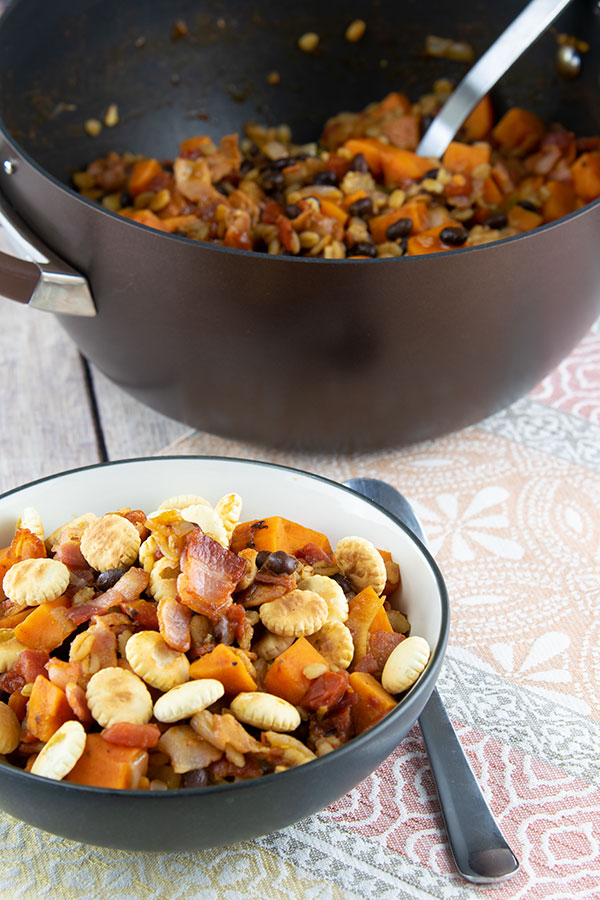 Sweet Potato and Black Bean Chili
Prep time: 30 minutes
Cook time: 60 minutes
Servings: 6
Circulon Symmetry Chocolate 5.5-Quart Casserole
6          slices thick-cut smoked bacon, chopped
1          pound sweet potatoes, peeled and diced into 3/4-inch pieces
2          medium onions, chopped
1          jalapeno pepper, seeded and finely chopped
5          garlic cloves, minced
2          tablespoons chili powder
2          teaspoons ground cumin
1/2       teaspoon dried oregano
1/4       teaspoon ground chipotle pepper
2          cups chicken broth
1          can (14 1/2 ounces) no-salt-added fire-roasted diced tomatoes
1          can (15 ounces) no-salt-added black beans
1/2       cup quick-cooking barley
1/2       teaspoon salt
Heat casserole over medium heat. Add bacon and cook until browned and crisp, about 7-8 minutes. Using a slotted spoon, transfer bacon to a paper towel-covered plate.
Reduce bacon fat in the casserole to 2 tablespoons and return to the stove over medium-high heat. Add sweet potatoes, onions, and jalapeno pepper; cook, stirring occasionally until onion is slightly softened, about 5 minutes.
Add garlic and cook for 1 minute. Stir in chili powder, cumin, oregano, and ground chipotle; cook until fragrant, 15 seconds.
Pour in broth, tomatoes, beans, and barley; reduce heat to medium-low, cover, and simmer until sweet potatoes are tender and barley is cooked for about 20 minutes. Remove from heat and stir in bacon and salt; let stand 15 minutes before serving.
SOURCE:
Circulon
Vegan Chili YUMMY
Ezz Jazz classic Jazz for your dinner date.
Vegan Peanut Butter Jackfruit Chili
We are sorry that this post was not useful for you!
Let us improve this post!
Tell us how we can improve this post?
About Post Author