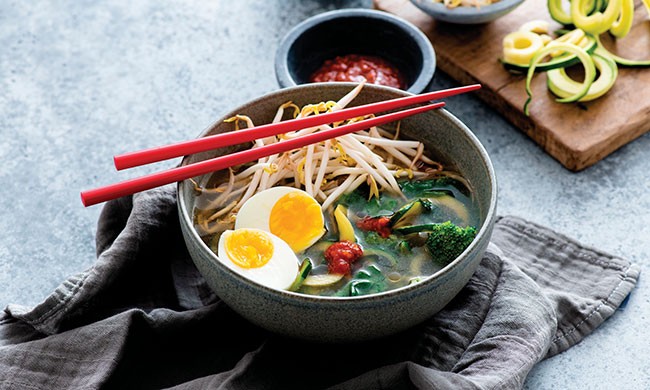 Vegetarian Ramen Zoodle Bowls. The start of a new year brings with it new opportunities to better yourself in all kinds of ways, including your health. Start by evaluating your at-home menu to make sure it aligns with your nutritional goals.
Vegetarian Ramen Zoodle Bowls
Recipe courtesy of "The Atkins 100 Eating Solution"
Total time: 30 minutes
Servings: 4
4          large eggs
ice water
2          cups fresh water
1          quart vegetable broth
5          ounces (3 cups) broccoli florets, cut into bite-size pieces
10        ounces (4 cups) spiralized zucchini
5          ounces (5 packed cups) baby spinach
1          tablespoon, plus 2 teaspoons, white miso paste
1/4       teaspoon kosher salt, plus additional, to taste, divided
1          tablespoon toasted sesame oil, plus additional for garnish, to taste
2          cups mung bean sprouts, for garnish
4          tablespoons crushed peanuts, for garnish
Nutritional information per serving: 10 grams net carbs; 17 grams total carbs; 7 grams fiber; 16 grams protein; 13 grams fat; 253 calories.
Disfrute de la bondad saludable de las uvas en sus comidas