Caprese Avocado Toast with Balsamic Glaze
A Savory Small Plate
Provide a tasty snack to tide appetites with this Caprese Avocado Toast. Featuring Filippo Berio Classic Balsamic Glaze as one of the key ingredients, this aesthetically appealing appetizer brings tanginess and artistic flair for a flavorful bite. Simple preparation precedes only five minutes of time in the oven, meaning you can put this tasty snack on the table in a hurry. Find more recipes at filippoberio.com.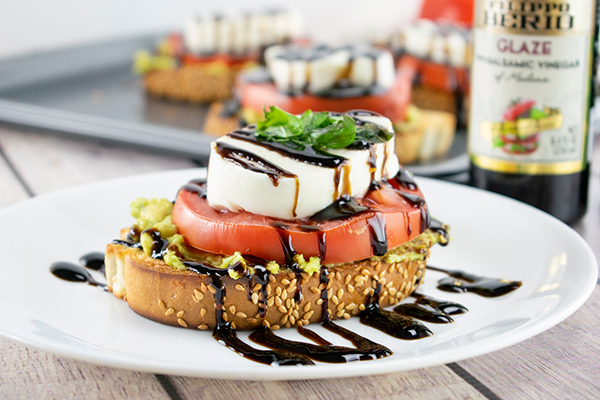 Caprese Avocado Toast with Balsamic Glaze
2 tbsp Filippo Berio Robusto Extra Virgin Olive Oil
1/4 cup Filippo Berio Classic Balsamic Glaze
4 slices rustic Italian bread, about 3/4-inch thick
1 large clove garlic, halved
2 small ripe avocados, peeled and pitted
1 tbsp lemon juice
1/4 cup torn fresh basil, divided
1/2 tsp each salt and freshly ground pepper, divided
1 large ripe tomato, sliced
8 oz fresh mozzarella cheese, sliced
1/4 tsp hot pepper flakes
Preheat oven to broil; position rack to highest level. Brush olive oil over both sides of each slice of bread; broil, turning once, for 3 to 5 minutes or until golden brown. Rub cut side of garlic clove over bread while still hot.
Mash together avocados, lemon juice, and half of the basil, salt and pepper; spread over one side of each slice of bread. Top with tomato slices; season with remaining salt and pepper. Top with mozzarella slices; sprinkle with hot pepper flakes.
Drizzle each slice of bread with balsamic glaze. Sprinkle with remaining basil; serve immediately.
Tip: Serve with sliced dry cured salami or prosciutto for a side of protein.
Watch Video to see how to make this delicious recipe!
SOURCE:
Filippo Berio
AP THE TREE "BRIGHTER DAY" White 11oz Ceramic Mug with Color Inside
We are sorry that this post was not useful for you!
Let us improve this post!
Tell us how we can improve this post?
About Post Author