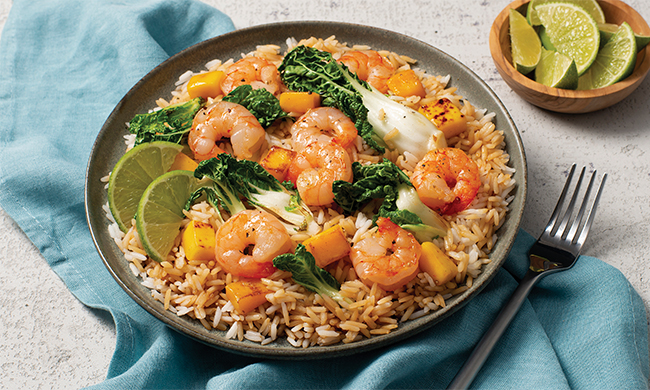 Lime-Ginger Shrimp Fried Rice is an Asian-inspired option with additions of bok choy, lime juice, fresh ginger root, and mango for a zesty flavor. Both dishes require half an hour or less in the kitchen, leaving more time for family fun in the evenings. (Family Features)
Plus, you can add to the convenience of these meals by incorporating an option like Success Rice with its taste, texture, and quality that help make mealtime a cinch. With its "Boil-in-Bag" cooking process that provides a satisfying shortcut, simply add water to a saucepan, drop the BPA-free bag into the water, boil for 10 minutes and remove with a fork for a no measure, no mess timesaver that pairs perfectly with sauteed shrimp for Lent-inspired dinners.
Find more family-friendly Lenten meal ideas at SuccessRice.com.
Lime-Ginger Shrimp Fried Rice
Prep time: 15 minutes
Cook time: 15 minutes
Servings: 4
2          bags Success Jasmine Rice
2          tablespoons canola oil
1          pound large shrimp, peeled and deveined, tails removed
8          baby bok choy, trimmed and quartered
1/2       cup diced fresh mango
1          tablespoon minced fresh ginger root
1/4       teaspoon salt
3          tablespoons soy sauce
2          tablespoons lime juice
Prepare rice according to package directions. Let cool completely.
In wok or large skillet over medium-high heat, heat oil. Cook shrimp, bok choy, mango, ginger and salt, stirring, 3-5 minutes, or until shrimp start to curl and bok choy starts to wilt.
SOURCE:
Success Rice
Hits: 61